ALLSTAR TOWING
24/7 HEAVY DUTY TOWING & RECOVERY FOR 18 WHEELERS
Tell ALLSTAR TOWING you found them on 4RoadService.com.
24 hour service
Phone

979-778-4610
Services Provided:
Mobile Unit Bryan, TX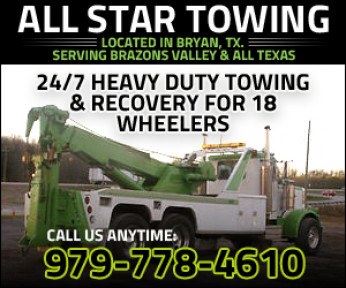 More About allstar towing
ALLSTAR TOWING CALL: 979-778-4610
24/7 HEAVY DUTY TOWING & RECOVERY FOR 18 WHEELERS
LOCATED IN BRYAN, TX. SERVING BRAZONS VALLEY & ALL TEXAS

HEAVY RESCUE: We are experts in handling high-risk scenarios
and vehicle recoveries recovering equipment from some of the
toughest environments!
OFFER:
* AIR CUSHION RECOVERY SERVICES
* FLATBED TOWING
* HAUL TRUCK SERVICE
* TRAILER SHUTTLE
* HAZMAT CLEANUP

Trucking and Hauling: Our fleet contains dozens of specialty
vehicles for hauling equipment moves and freight.

Auto Services: Servicing Light Auto Trucks and Cars -
Including: Boosts Lockouts / Unlocks, Tire Changes
Fuel Delivery and Towing....
Hot Shot Service and so Much More!



Accepted Here:
Cash Check